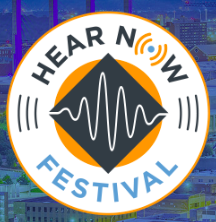 One month till the HEAR Now: The Audio Fiction and Arts Festival! Looking forward to all the awesome #audio, #radiodrama, #podcast and #sounddesign presentations, talks, workshops, tips and tricks in store this year AND I finally get to meet some of my The Call of the Flame: An Audio Play team members face to face for the first time!
(with us all 'living in the future', its amazing how many projects you can be on these days, without ever seeing your co-stars….ahh internet, we love you:)
"Call of the Flame" is one of the Platinum Official Selections of this year's NATF Playhouse, an honor one of my past projects, Dracula Radio Play, held last year! Gooooo Team!!!
HEAR Now: The Audio Fiction and Arts Festival!
#audioplay #vo #radio #voiceacting #foley