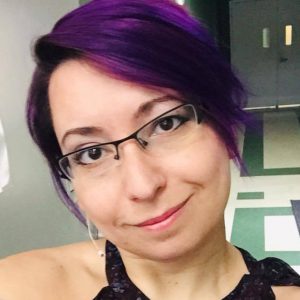 Welcome to BlackCatBonifide LLC, an audio and vocal production company run by me, Bonnie Bogovich.
BIO: Bonnie has spent over a decade designing audio on a variety of award-winning educational products, virtual and augmented reality simulations, interactive experiences, and theme park attractions.  She is also active as a voice actor, not just in games and education, but also the audio drama and audio fiction scene, and has been involved in two projects so far to be featured at the HEAR NOW Audio Fiction NATF showcase (Cryptic Canticles presents "The Dracula Radioplay Experience" and "The Call of the Flame"). A self-proclaimed "choir junkie", she regularly performs with a variety of operatic, choral, and musical ensembles, which led her to co-creating and producing the original productions "Evenings in Quarantine: The Zombie Opera", and the MAGfest and VGM scene touring series "Super Smash Opera" and it's sequel "Aria Kart". She is a frequent arranger and vocalist for a plethora of video game tribute albums by record label The Materia Collective. And… on top of it all… she loves puppetry (see "the Bwak Choir" for one of the latest examples of her exploits).  A Pittsburgh Native, now celebrating her 2nd year of living in Austin, she works under her LLC "BlackCatBonifide".
This site contains resume links, blog and updates, public appearances, panels, and interviews, video game audio and music projects, and more! We hope you like what you find.
Thank you for visiting!
Bonnie Bogovich
BlackCat Bonifide
"mecha lecka hi mecha audioooo"